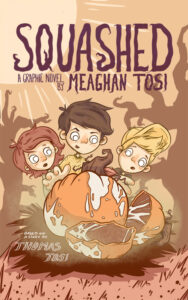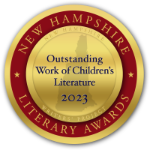 "A shiveringly good tale for ghost story enthusiasts who like happy endings."
—Kirkus Reviews
"Readers will fall for this spooktacular tale!"
—The Children's Book Review
2023 Best Children's Book
—New Hampshire Literary Awards
"Like autumn itself, it provides warmth and entertainment, but still has a darker side that can give chills."
—Manchester Ink Link
Aah! Dude! It moved! I told you not to touch it!
Can the mysterious shuddering pumpkin the three kids found in the forest be alive? They're going to find out when they lift it from its resting place and carry it home. But what happens if someone—or something—comes looking for it?
This evocative graphic novel is spooky yet ultimately gentle and charming. It presents a tale of unfounded fear of those who are different and the similarities we all share. Told in richly stylized full-color artwork from illustrator Meaghan Tosi whose previous work Kirkus Reviews praised as "delightful."
Buy from your local indie bookstore, Amazon.com, or Barnes & Noble.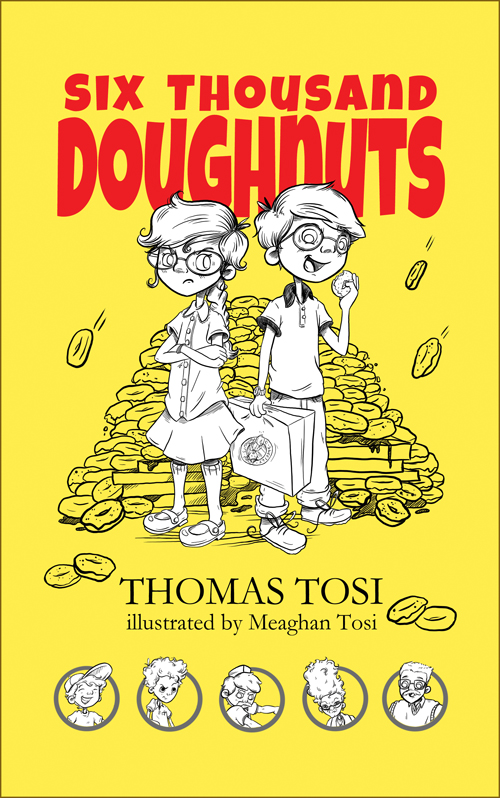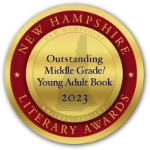 "An energetic romp through a young boy's comedic quest and a warmly told tale of youth and family"
—Kirkus Reviews
"Reminded me of Frindle but steers in a more humorous direction"
—Bookworm for Kids
2023 Best Middle-Grade/Young Adult Book
—New Hampshire Literary Awards
2023 People's Choice Award for Middle-Grade/Young Adult
—New Hampshire Literary Awards

Why would anyone need six thousand doughnuts?
Big family…little house… Fifth-grader Abe Mitchell is fed up with sharing. All he wants is something to call his own. And he just might get it when he finds a loophole in the fine print of a doughnut shop coupon. Abe thinks it entitles him to a fresh-baked mountain of crullers, dunkers, and chocolate-frosteds. But cashing in means war with Marlene Paczki, the daughter of the doughnut shop owner and Abe's new crush.
Buy from your local indie bookstore, Amazon.com, or Barnes & Noble.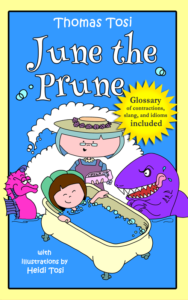 Since her debut on "The Amazing Adventure Series" website in 1997, June the Prune has entertained over a quarter-million readers worldwide.
"Marvel at the amazing adventures of June the Prune…"
-Los Angeles Times
June Comfy is a girl who surely loves her bath. She'll do just about anything to relax in a mountain of bubbles.
When June manages to avoid her chores and finagle her way into Grammy Comfy's claw-foot tub, she's soaking in aromatherapy bliss. But she's also soaking in trouble when the tub toys that Grammy has given her come to life. Shirking her responsibilities might have just landed June in more hot water than she can handle.
June the Prune is an imaginative adventure told in June's own distinctive voice—full of contractions, slang, and idioms, with a glossary included at the back of the book.
Buy from your local indie bookstore, Amazon.com, or Barnes & Noble.
---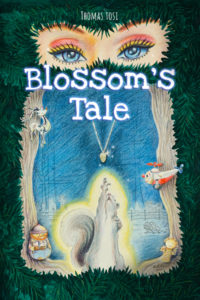 It's not easy being a young squirrel raised by a coward. At least, that's how Blossom sees her father. He's scared to leave their home. Not just the grounds of the country cemetery, Father never leaves the Sturdy Oak. He doesn't even step one toe outside.
Ever!
When Blossom runs away, she finds herself trapped inside the Christmas tree of the Jones family—where the decorations come to life.
Blossom finds new friends in a band of handmade "lower branch" ornaments that tries to help her find her way home.
But she'll soon wonder if Father was right to fear the outside world when a coterie of "upper branch" ornaments plots to rob the squirrel of her luxurious fur to fashion a coat for their leader—the angelic tree topper, Christmas Darby.
Buy from your local indie bookstore, Amazon.com, or Barnes & Noble.
---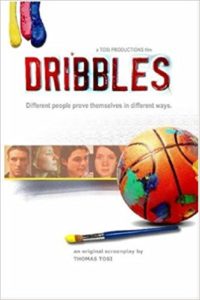 The complete shooting script for the feature motion picture "Dribbles". Includes movie stills, production notes, and end credits from the film.
In this "surprisingly moving piece about teen life" (HBO Coverage), talented high school artist David McNeil is desperate to prove himself to his runaway father by winning a state championship basketball jacket. Grueling tryouts, family conflict, and strained friendships are merely the underpainting for David's greatest challenge as he suddenly finds himself in the role of friend and protector of Dribbles – a mentally challenged old janitor and the basketball team's unofficial mascot.
With self-confident new girl at school, Mary, as his guiding spirit and artistic muse, David may just find there are more important measures of a man's worth than trophies. This "beautifully written, heartwarming, and quite charming" (Republic Pictures Coverage) story is one you will want to experience again and again.
Buy from your local indie bookstore, Amazon.com, or Barnes & Noble.