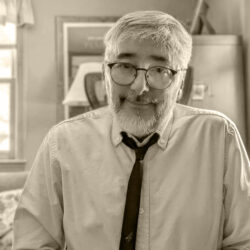 I was born and raised in a pretty little seaport town called Portsmouth, New Hampshire. As a kid, I liked school—particularly writing. I wrote short stories, a short play, and even comic books with friends.
When I was in junior high school, I was on the basketball team. My dad used to bring a Super-8 home movie camera to the games to film them. I was more interested in the camera than the games because I was so terrible at basketball. Or was I terrible at basketball because I was more interested in the camera than the games? I'm not sure. What I do know is that's when I got hooked on telling stories with both words and pictures
I kept writing and making movies through high school, and that's also what I studied in college at Boston University.
I was lucky enough that my student film, "The October Garden," won a prize at the university, earned me a little money when it aired on national television, and was selected to be an official representative of the United States in film festivals in other countries. "The October Garden" was even able to bring home a fistful of awards—something I could never do in basketball!
Throughout my life, I've kept on telling stories—many short films, written prose, and full-length movie scripts. I even got to direct one of those scripts into a feature film. The books I like to write are for kids and young adults, but I hope everyone will enjoy them.
Still in New Hampshire, my wife and I now live in a house that's completely powered by the sun. And when I'm not writing, I like to work in our garden where we grow organic veggies.